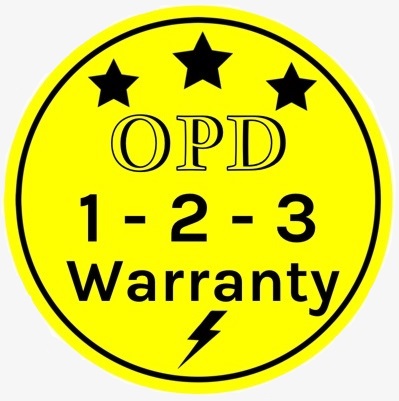 Want you to be as confident in the reliability of our products as we are
This is why all of our products are covered by the 'OPD 123 Warranty'.
What is 'OPD 123'?
It's a simple philosophy: on any product you purchase, OPD will give you the maximum warranty we can, and then where possible, give you the option to further extend this as cheaply as we can:
All products supplied by OPD will have either a 1,2 or 3 year standard warranty
For some OPD products you will be able to extend this warranty by 1,2 or 3 years
What do you get with 'OPD 123'?
In months 1 to 3, for any valid warranty we will replace the product and cover all carriage charges in the UK
After month 3 we will repair, replace or credit you for any valid warranty claim
How do I activate the 'OPD 123'?
It's a simple 1,2,3 process
Step 1 Activate the OPD 123 warranty by calling us or click here and fill in our very simple 'Support and Warranty Activation' form
Step 2 Send or arrange with us to get the product back to OPD
Step 3 Wait to receive the repaired or replaced product
Why the different warranty time periods?
OPD supply Communications and IT products. Many communication products are built to higher specifications than many IT products as they are expected to last that much longer, hence OPD can offer longer Warranty's.
OPD offer a minimum 2 year warranty on all of our Communication products
OPD offer a minimum 1 year warranty on all of our IT products
'The OPD 123 Warranty – feel confident when you purchase anything from
'
For more detailed information see our warranty policy here